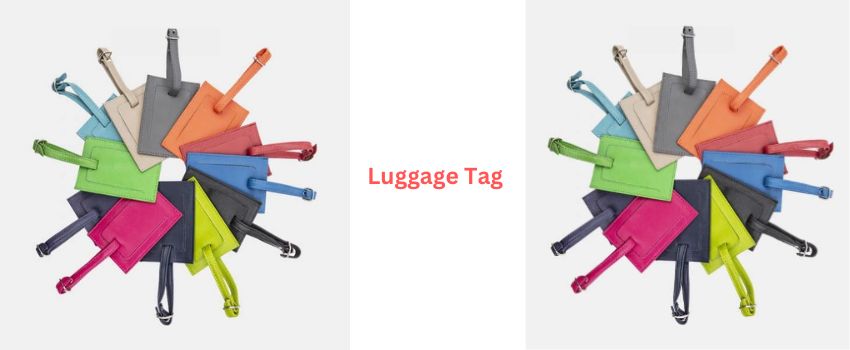 Travelling is a hectic part. If you are flying to get to the airport early, go through security. Proper security and the airline doesn't lose your baggage along the way. The chance of having your bags misplaced can occur properly. They provide the airlines with vital information to help reunite your lost suitcase. A luggage tag is a special form of identification for your suitcase.
Whether you travel by boat, train, or plane, your bags will be tagged as per the luggage tags. Leather Luggage tags are useful for three major reasons such as- help passenger identify their bag at the baggage department. They prove a person was not stealing someone else's luggage. One can track missing baggage through luggage tags. Luggage tags are efficient in identifying luggage properly.


Reasons for Using a Luggage Tag
Here are the significant benefits of using luggage tags-
1. Easy to Spot- Bright colours and fun shapes are easy to see from a baggage claim. You will want to spot yours right away in a sea of a suitcase.
2. Durable- Unlike old paper tickets, luggage tags are made to last. It won't rip or tear. It is less likely to fall off.
3. Unique- Whether you want to make a fashion statement or show off your love for sandals, you can find a luggage tag to fit your style.
4. Identify your Bag- A luggage tag is like a driver's license for your suitcase. Try to choose authentic leather luggage tag suppliers for your ultimate benefit.
Different types of Luggage Tags
Luggage tags can be of different types, such as follows-
1. Handle Wraps- Handle wraps are attached to your luggage by using Velcro. Their bright colours and extra padding make your bags easier to spot and more comfortable to carry.
2. Magnetic- Magnetic luggage tags look like any ordinary tag, and they are attached to your luggage by a plastic loop. The magnets do a good job of keeping your important details sealed up.
3. Slips- You can fill out the standard luggage ID label or slide in your business card. Regardless slips are easy to use and come in a wide range of colours.
4. Shaped- With custom shapes, you can personalise your tag any way you want. There are many shapes to choose from, including flip-flops, paw prints, aeroplanes, and even suitcases.
Tips to Keep your Luggage Safe
Here are some tips to keep in mind to keep your leather luggage tag safe on your next adventure.
1. Please take pictures of your bag and its content
2. Pack valuables in your carry on
3. Put your itinerary or business card inside your luggage
4. Place luggage tags on the inside and outside of your bags
5. Use a lock
6. Avoid connecting flights
7. Check your luggage in on time
8. Double-check the airport tag for accuracy
9. Track your bags on your mobile device
10. Remove old tags from previous trips
11. Notify the airline immediately if you suspect your luggage is lost
You can choose any authentic online portals to choose leather luggage tag suppliers.