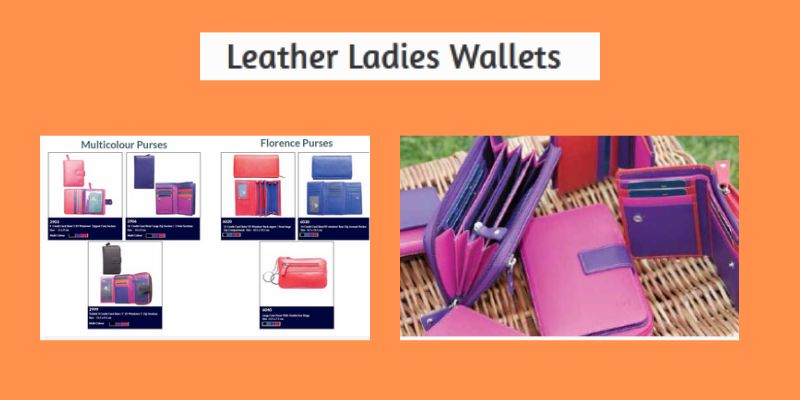 Wallets are those reliable accessories that are vital for carrying everyday items. They help you carry and protect incredibly valuable items, including identification cards, driver's licenses, debit and credit cards, and cash. So the last thing anyone wants is for their ubiquitous wallet to fall apart on them.
Just like men, women also need sturdy wallets that make a statement about their style. Ladies need wallets that make sense for their daily lives. Most women's clothes don't have any pockets so they may be more likely to throw their wallets in a purse or bag. Unlike men, women don't carry wallets in their trousers or jacket pockets.
Leather is one such material which has become an obvious choice for ladies wallets. This material has been relied on in furniture, shoes, and clothing. Now leather wallets for women are ruling the industry. It's a natural, sustainable resource that's soft, durable, and unique, and comes in various colors or finishes.
The wallet is a multitool for women rather than just a basic cardholder. That's why leather Ladies wallets tend to be larger than leather wallets for men. Whether you are going on a family trip or attending a business meeting, heading towards your office or going to weekend parties, you will need women's fine leather wallets to match your style and purpose. Cold breezes, hot days, unpredictable rains, sudden drops and rough usage - a top-grain leather ladies wallet can live through anything.
Leather ladies wallets are such an accessory that lasts longer than you expect and shines soberly while you take them out of your handbags or sling bags. Pure leather wallets for ladies reflect a sense of your style, let you carry your valuables with safety and organization and keep it safe from theft, damage or spills.

Attributes of the best leather ladies wallets -
Functional
Eco-friendly
Highly durable
Irresistible design
Timelessness
Unmatched quality
Minimalist grace
When looking for leather ladies wallets, you get too many options with different prints and functionalities. Sometimes, it is obvious to get confused about what to buy from so many brands. Always choose a cruelty-free leather ladies wallet exporter where you can shop women's leather wallets online at affordable prices. Explore the exclusive range of beautiful leather wallets for women at a good leather ladies wallets exporter.

Here are some of the crucial aspects that need special attention by the exporters of leather ladies wallets-

1) They should be backed with a well-developed infrastructure including robust manufacturing facilities.

2) They should regularly inspect the machinery and review technology to ensure efficient production without any interruptions.

3) They should use cutting-edge technology for the curing, soaking, tanning, splitting, sorting, dyeing, drying, and finishing of the leather.


4) They should process, design, and finish the leather wallets to meet the highest levels of quality.

5) They should have a team of quality analysts to test All the products on various parameters as per the industrial standards.

6) They should ensure the timely delivery of all products to achieve customer satisfaction.

Conclusion


Thus, it can be said that a leather wallet is a perfect companion for ladies, anywhere. It is such a material that always remains in fashion. Indeed, a leather wallet is a perfect gift of any age group of women from childern to teenagers, adults, and seniors.